There is nothing better than eating a piece of fruit or veg that you grew yourself and one of the ways you can do this is by either growing plants in an allotment or in your garden. However, getting outside or having a garden to grow plants in is sometimes impossible, therefore, the only way to grow your own is in an indoor garden.
Benefits Of Indoor Gardens & Growing Your Own Fruit And Veg
Sometimes space is restricted or you may not be able to go outside due to mobility issues. With an Indoor Garden you need not worry about these issues as the garden comes to you.
Having an Indoor Garden is a great way to introduce your children to growing plants and vegetables and is also a great way of getting fussy eaters to eat more fruit and veg.
Gardening has been proven to reduce stress and mental health issues by providing people with source of exercise and self-gratification from growing your own plants.
An Indoor Garden allows users to grow anything from a tray of Microgreens to exotic flowers … the possibilities are endless.
Common Questions About Indoor Gardens
How Much Space Do I Need To Set-up An Indoor Garden?
The beauty of an Indoor Garden is that they can be set-up in almost every room in your house that has access to electricity. For example most people either set one up in their attic or bedroom, however, an Indoor Garden can also be set-up in a garage or conservatory.
What Type Of Plants Can Be Grown Indoors?
Another benefit of an Indoor Garden is that you can grow whatever you want all from the luxury of your own home!

Microgreens
Microgreens are packed with nutrients. While their nutrient contents vary slightly, most varieties tend to be rich in potassium, iron, zinc, magnesium and copper. Microgreens are also a great source of beneficial plant compounds like antioxidants. Popular varieties include: Pea Shoots, Radish Sprouts, Sunflower Shoots and Wheatgrass and some can only take up to twelve days to go from seed to harvest.
Lettuce & Spinach
Lettuce & Spinach provides a rich source of iron, calcium, potassium, vitamin C and folate. These vitamins helps keep your immune system healthy and also helps you meet your daily requirements. Typically both plants take just 30 days to go from seed to harvest.
Cucumber
Cucumbers are great for anyone who is on a diet as they promote weight loss and are a great source of Antioxidants. They're also full of vitamin K, potassium and folate. Furthermore, some varieties can only take up to 50 days to go from seed to harvest!
Tomatoes
Tomatoes are one of the best sources of the antioxidant and have been linked with reducing the risk of heart disease and cancer. They're also a great source of vitamin C, potassium, folate and vitamin K and can take upto just six weeks to go from seed to harvest.
What Pieces Of Equipment Are Needed For An Indoor Garden?
When people first enquire about setting up an Indoor Garden one of the main questions they ask is 'what type of light do I need?' or 'do I  need a filter kit? Luckily, we have numerous packages with everything needed to set-up an Indoor garden that suits everyone's needs.
Micro Greens Propagation Tent Kit
Included in each kit is: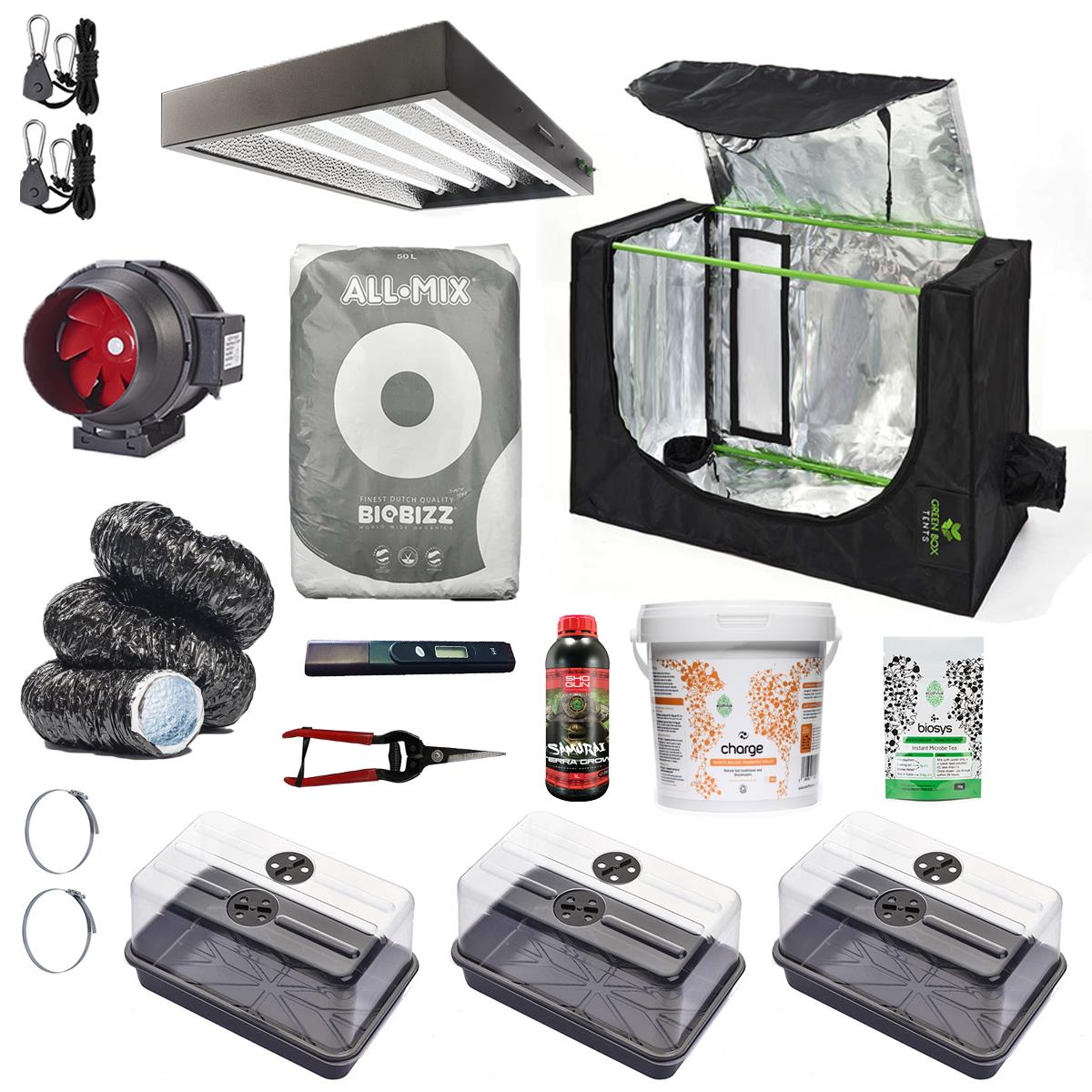 1 x Green Box Grow Tent 90x60x90cm
1 x T5 4 bulb 2 foot Grow Light
1 x Cyclone Twin Speed Extractor fan
1 x 5M Black Acoustic Ducting
2 x Ducting Clips
50LTR BioBizz All-Mix Potting Soil
1LTR Ecothrive Charge Soil Enhancer
10g Ecothrive Biosys Microbial Solution
1 x PH Pen
1 x Trim Buddy Pruning Scissors
3 x Propagators
2 x Rope Ratchets
1LTR Shogun Terra Grow Nutrient
Complete Grow Tent Kit with 600w LED Grow Light & Coco Coir Blocks
Included in each kit is: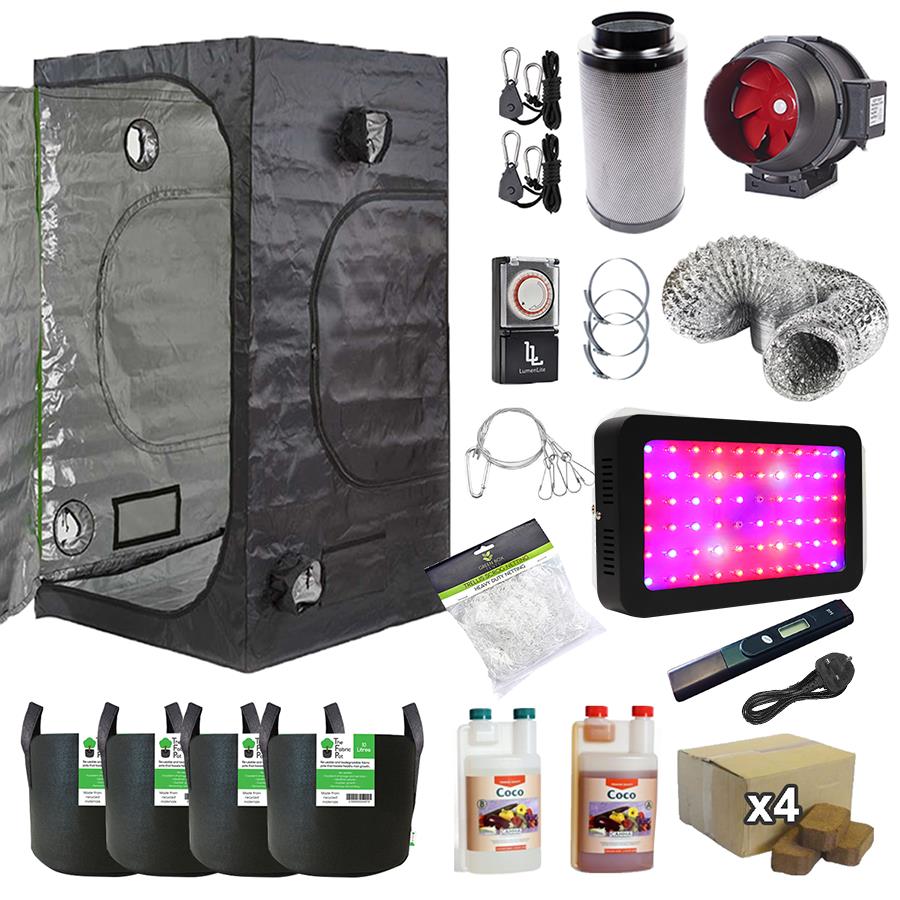 1x 120cm x 120cm x 200cm Heavy Duty Grow tent
1x Growth & Flowering 600w LED Grow Light
1x Pair of Rope Ratchets (x2pcs)
1x 4″ Fox Twin Speed Fan
1x 4″ Fox Carbon Filter
1x 4″ 5 Meter Ducting
2x 4″ Ducting Clips
4x 15L Black Fabric Pots (may vary from square to round)
4x Coco Coir Bricks 10L
1x PH Pen
1x GreenBox Plant Support Net
1x 1L Canna Coco A&B
Included in each kit is:
1 x Green Box Grow Tent – 300cm x 200cm x 200cm
1 x 12 Pot AutoPot Hydroponic System
2 x 600w LUNAR Dual Spectrum LED Grow Light
50 Litre of Canna Coco Natural
1 x 1 Litre of Canna Coco A & B
1x 6″ Fox Twin Speed Fan
1x 6″ Fox Carbon Filter
1x 6″ 5 Meter Ducting
2x 6″ Ducting Clips
2 x Heavy Duty Light Timer
How To Grow Indoors
Growing indoors is easy if you know how, however, when first starting out all the equipment can seem confusing. Don't worry though, we've got you covered. Check out a few of our blog articles on;
Which Grow Tent Kit Is Best For You?
Which Technique Is Best For Growing Plants: Traditionally or Hydroponically?
Soil or Coco: Which One Should You Use?
What Type Of Bulb Should I Use For Growing Plants?
Magnetic Ballast vs Digital Ballast: Which One Should You Use?
and if you're still stuck, we have numerous other blog posts available as well as helpful staff on our website Live Chat feature, via telephone or through an email.