Elite Quantum LED Grow Light Panels
Welcome to the next generation of Quantum Board white LED Grow Lights, with sunlike full spectrum, ideal for all kinds of indoor plants veg and flower at all growth stages.
Brand new LED grow light From Elite Lighting. Featuring high yielding technology that give you more for your money than other LEDs on the market today.
The Elite Quantum range of LEDs produces 2.7 umol/j (EQ4000 produces 2.8 umol/j) which creates better canopy penetration.  Furthermore, the LED uses 50% less power than standard HPS bulbs but produces up to 50% more yield.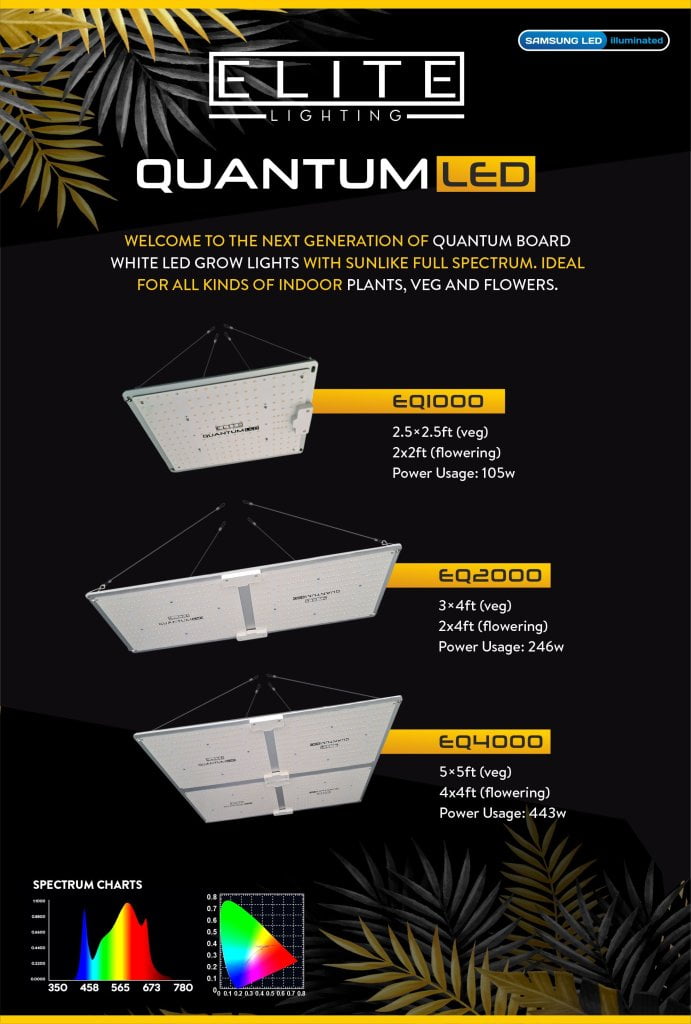 New Dimming Feature
Thanks to the Elite Quantum's ability to dim their output, users can create an ideal lighting environment no matter where they are.
Daisy Chain Feature
In addition to the lights ability to dim its output, the Elite Quantum can also be daisy chained with other lights of its type. This means that users can control a row of up to 12 lights by simply changing the all the lights output on one lights control unit.
Full Spectrum Output
Thanks to the Samsung Diodes, all Elite Quantum LEDs are full spectrum, which means they can be used throughout a plants lifecycle.
Bulbs:
White, Blue, Red, and IR
(3000K, 5000K, 660nm, and IR 760nm)
Features
High-efficiency white light quantum boards with LM301B diodes.
White-light full spectrum for optimal canopy penetration and easy viewing.
2022 New design: Extra dimmer knob & Connection function.
Reliable passive-cooled design (no cooling fans required).
Optimal canopy penetration with diffused light via a large form factor.
High-efficiency driver produces the best quality light.
Hints On How To Daisy Chain The Elite Quantum LED
 To daisy chain the LED, simply insert an ethernet cable into the parents channel two port and then insert the other end into the child's channel one port.